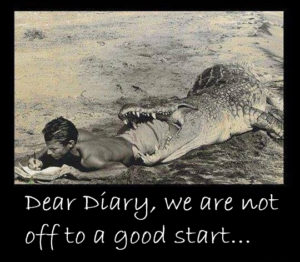 Hey, remember how I was going to blog twice a week, Tuesdays and Saturdays??
Yeah. And…
Today is Wednesday.
Hmm.
On the plus side, I spent about four hours yesterday working on writing (lesson plans, work emails, and then–eventually!!–working on the RSWIP with my cowriter in a super-sweet new-to-me coffee shop. So good overall! And I do intend to continue with Tues/Sat as my preferred blog schedule… even though this week I was lying in bed ready to sleep Tuesday night before my eyes flew open in a panic as I remembered I'd forgotten to update the blog.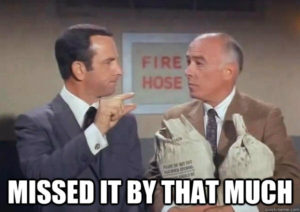 Aaaanywho, despite having pulled a Maxwell Smart on my first regular blog update of the year (whoooops), I did still get a good deal of writing done, and I'm excited about it–tonight I'm back at it and have just cut over 1200 words from the draft I'm revising.
AND I'm also strangely nervous about this, but I'm going to be submitting pages from the RSWIP to my crit group. Why is this weird? Who knows. Why is this somehow scarier than giving them pages from the YA-SFF-WIP? Maybe because this is Romantic Suspense and nobody in IndyScribes "writes romance" (although most people's stuff has romantic subplots from time to time) and I feel weirdly embarrassed and dorky about liking Romance, despite the fact that it sells super well, and is super popular, and since when do I care about people thinking I'm a weirdo?!?!
I was nervous the first time I sent them pages from the YASFFWIP, too, so probably it's just that overall nervousness of "okay I've been working on this with my whole heart and soul for literally years now but tell me what you REALLY think of it" and I'm sure it'll be fine.
Right?