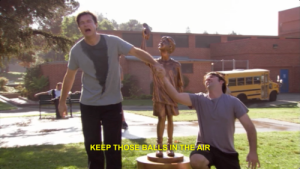 So, feeling much like Michael Bluth is in the image above, I am trying to keep a lot of balls in the air right now. I'm currently hanging out in Muncie for the Midwest Writers Workshop, which is awesome. I'm working on a post about the last 2/3 of Bart IWT. I'm trying to ignore the fact that school starts next week. I'm excited that Sarge has just been upgraded from "my two-month-old" to "my three-month-old" and amused that I'm not the only person pumping milk in between conference sessions.
I've taken tons of notes, and I'll have lots to say later, but right now I'm going to keep processing what I've learned.
In the meantime, I've also been twittering my heart out; I think I'm finally getting the hang of Twitter! If you're interested, you can watch me twit or follow my twitterings here!