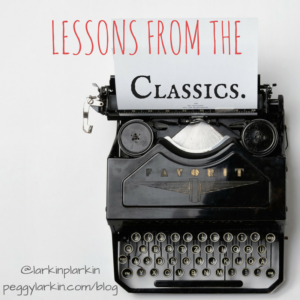 Note: This is part of an ongoing series of posts that take what I'm teaching in my 11th-grade American Lit classes and then shows how that could translate into creative writing, using examples of what I'm doing. I welcome feedback, because I'm no expert on American literature–just somebody who's been teaching it for a couple of years. I would also love to hear how other writers are using these tools!   
This week in American lit, students are working in small groups to read Bret Harte's* short story "The Outcasts of Poker Flat" (1892).  This is our first example of literary naturalism, or a story that presents as its theme a bleak worldview in which individuals are crushed and destroyed by an unfeeling world/social order (or, as I tell the students, "if everybody's dead at the end and nobody cares and nothing changes about the world, it's probably naturalism").
The plot of "Outcasts" finds four ne'er-do-wells from the town of Poker Flat escorted out of town: John Oakhurst, gambler; Mother Shipton, who runs a brothel; The Duchess, an employee of Mother Shipton's; and Uncle Billy, a drunk and a suspected thief. This being naturalism, they all end up dead in the wilderness, but Harte's focus on their actions between their expulsion from civilized society reveals that "in the end…these seeming derelicts really had hearts of gold" (VanSpanckeren 5). Well… most of them, anyway–Uncle Billy definitely takes the mule and horse and leaves the rest of them to die.
But Oakhurst offers his horse to the Duchess, whose mule isn't capable of carrying her; Mother Shipton starves herself to give extra food to the innocent Piney, who was running to Poker Flat to marry her sweetheart, Tom; and Piney and the Duchess die huddled together for warmth, equal in death:
And when pitying fingers brushed the snow from their wan faces, you could scarcely have told from the equal peace that dwelt upon them, which was she that had sinned. Even the law of Poker Flat recognized this, and turned away, leaving them still locked in each other's arms. (Harte 33)
The story ends with Oakhurst writing his own epitaph on a playing card ("who struck a streak of bad luck…and handed in his checks") and nailing it to a tree–"And pulseless and cold, with a Derringer by his side and a bullet in his heart, though still calm as in life, beneath the snow lay he who was at once the strongest and yet the weakest of the outcasts of Poker Flat" (Harte 35). As I made several students explain to me, Oakhurst is physically strong, and stays calm, and cares for others–the strongest–but gives up and kills himself–the weakest.
That juxtaposition–the innocent and the sinner, the strongest and the weakest–is, to my mind, what gives this story its punch; and let's not pretend we don't all love a noble thief or a charming rogue, right?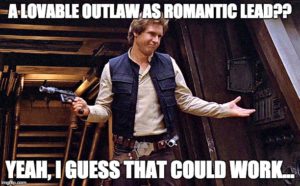 One of my WIPs features a romantic-hero-mafioso, and the other a band of rebels desperate to bring down an empire. These things have, like everything, been done before, but I think I can get some good hints from Harte about how to use juxtaposition to create interesting characters, and to do it using indirect characterization.
Continue reading Lessons from the Classics: Harte's Outcasts →