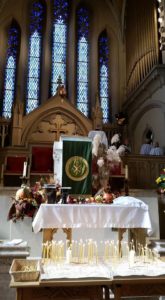 Today was the Feast of All Saints, where candles are lit and prayers are said and hymns are sung for all of the new saints–i.e., those who have died in the last year. I'm not what you'd call a regular churchgoer (I'm as strange as they come, har har) but I've found lately that in church, I can't help but experience very strong emotion.
I was with my mother (and husband and son, but husband had to go to day care with son because son was NOT about that daycare life and would NOT be cool), and my mother- and father-in-law were singing in the choir.
This has been a rough year–on Facebook I tagged 14 people off the top of my head who have lost someone precious to them over the past year. I spent a lot of the service sniffling from a combination of catharsis and allergies (no it's not a cold I 100% refuse to acknowledge that it's a cold shut up it's allergies).
My father died on December 10th of last year after a long battle with esophageal cancer, a very nasty cancer that he actually beat twice; it was the third recurrence that killed him.
When I think about it now, it's with a weird mix of devastation and peace.